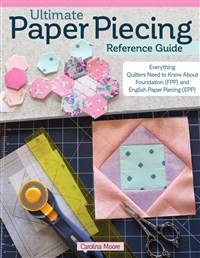 When it comes to using paper in your quilt designs, there are two techniques you can use – English paper piecing (EPP), or foundation paper piecing (FPP). Normally, quilters are devoted to a particular paper piecing camp, but for those on the fence or anyone interested in trying and mastering both, Ultimate Paper Piecing Reference Guide is an absolute must-have quilting resource! A hardworking ...
Paperback
Coming Soon
- Release: 5/9/2023 12:00:00 AM
Don't begin another project without this resourceful and compact pocket guide! Learn everything you need to know about pre-cuts, how to use them, and all of the advantages! From understanding common and trademarked names of pre-cut fabrics and their sizes to the typical number of pre-cuts in the bundles, all their uses, all their benefits, and so much more, this ...
Paperback
Coming Soon
- Release: 4/11/2023 12:00:00 AM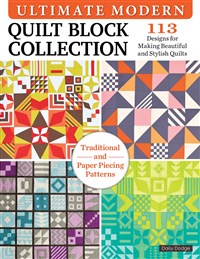 Ultimate Modern Quilt Block Collection features more than 100 quilt blocks inspired by an iconic German artform, Bauhaus, that has influenced the world of design for decades. Create a collection of eye-catching and modern quilt blocks using either paper piecing techniques or traditional block construction. Instructions and illustrations will then show you how to assemble a sampler quilt project ...
Paperback
Coming Soon
- Release: 1/3/2023 12:00:00 AM