Display Records 1 - 3 of 3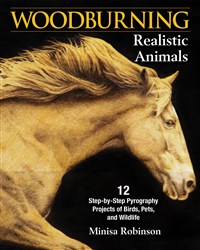 Woodburning Realistic Animals shows how to create amazingly lifelike portraits of domestic animals and wildlife with 12 step-by-step projects plus skill-building tutorials for creating realistic eyes, short fur, long fur, manes, and whiskers.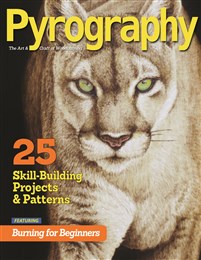 Filled with 25 step-by-step woodburning projects for artists of any skill level, Pyrography is sure to inspire! Also included are technique lessons, practice exercises for beginners, full-size pyrography patterns, astonishing artist profiles, product reviews, safety and cleaning tips, and so much more. From burning a dynamic steam engine train and personalized pet photos to making a dream ...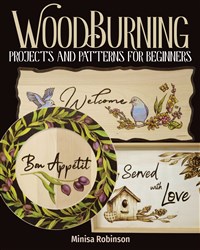 The ultimate beginner-friendly guide to pyrography, this book is the best place to start! Featuring a complete overview and introduction to woodburning, you'll understand the tools, supplies, and safety precautions involved in this unique art. Learn basic techniques to then complete step-by-step projects – patterns included – for frames, boxes, ornaments, and coasters, as well as how to avoid ...
Display Records 1 - 3 of 3